K-5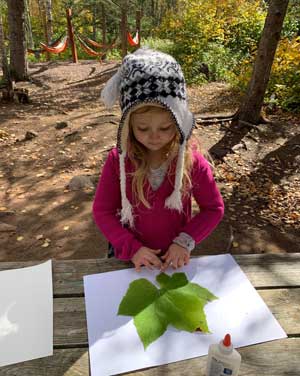 If you were to walk the hallways of our school at any given time of day, you might overhear teachers and students engaging in stimulating classroom discussions or see them working together on interesting projects. You might notice older students helping younger students under the watchful guidance of the teacher. You might hear songs and laughter, or you might hear the quiet sounds of students engrossed in thoughtful study. These are the everyday sights and sounds at Birch Grove Community School.
It is also likely that you may not find anyone in the building at all, as we spent as much time outdoors as we can, especially at The Campsite in the woods. We have two gathering areas at The Campsite, one that has a bonfire pit in the middle and the other surrounded by picnic tables and a large grill. We have stacks of firewood piled against our large storage shed that contains camp chairs, supplies for roasting and grilling, binoculars, and other outdoor supplies. Leaning can happen outdoors, just as it does indoors! The Campsite is surrounded by many student-made forts, trails, trees, animals, and lots of fresh Northwoods air!
Multi-Grade Classrooms
Our school is divided into three classrooms: kindergarten/1st grade, 2nd/3rd, and 4th/5th grade classrooms. This multi-grade educational approach adds value to our program in the following ways:
Instructional Flexibility—In a multi-grade classroom, the teacher can customize each student's learning plan to fit his or her individual needs. For instance, a teacher might choose to have a particular student read with students in the higher grade while doing math work with the lower grade.
Social Skills—With different age groups in the same classroom, students can gain perspective on what is happening in the lives and education of children both older and younger. This helps them gain a more accurate sense of the past and future in terms of experiences and interest and stimulates the entire learning environment.
Peer Tutoring—In a multi-age classroom, the children have more opportunities to help one another than in a single-grade classroom. Peer teaching aids the slower and younger children in ways that are often beyond the communicative ability of adults since adults have generally forgotten the problems they had in learning a particular concept or skill in the remote past.