Summer Saplings Program Ages 3–5
Join us for the Summer Saplings program! The Summer Saplings program runs from June, July (except for July 4), and August, Monday through Thursday from 7:00 a.m. to 5:00 p.m.
The Summer Saplings program is an outdoor/nature themed program that is a summer extension of the school year Saplings program. Each week has a nature theme and includes lots of time spent outdoors in nature. The summer session is a bit less academic than the school year session, but learning still takes place. Be sure to send sunscreen as we spend a lot of time outdoors during Summer Saplings!
Our caring and compassionate staff is actively involved with the children and sensitive to each child's level of development. Social skills, kindness, and friendship are areas they continually emphasize.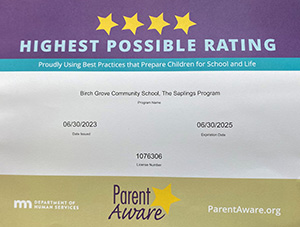 Once again, the Birch Grove Saplings Program received the highest possible rating from Parent Aware! We received 4 out of 4 stars! This rating stands until 12/31/2025.
We realize that the needs of children ages three to five can vary greatly. For this reason, we have made the program flexible and open to parent scheduling. You may enroll your child for half days, full days, two days a week, or perhaps all day every day, the choice is yours. As space allows, with prior notice, you can also vary the days your child attends to fit your schedule.
Brightwheel
Brightwheel is a secure online billing and payment system that allows digital payments directly from your bank account or credit/debit card. You receive paperless invoices, email receipts, and tax reports. Sign-up is easy! If you would like to use this system, please let us know what email address you would like to use, and we will send you a secure invitation to set up your account.